Which one's better, vegetarian or Non-Vegetarian Diet? Let's find out!!
A person's diet is a combination of foods undertaken to get proper nutrition for the body. A good and balanced diet can lead a person to a good health whereas a non-balanced and inadequate diet can be detrimental to his health. Food options are mainly available in two different forms one being a vegetarian and the other is a non-vegetarian. Both of these have their own significance and drawbacks.
A vegetarian food-
There are mainly 3 types of vegetarian diets;
– Total vegetarian
– Lacto-vegetarian and
– Lacto-ovo-vegetarian.
Total vegetarian diet includes vegetables, fruits, nuts, legumes, and grains. It means it is totally a plant-based diet.

Lacto vegetarian includes plant foods with dairy foods like milk, cheese, butter etc.

The third and the last one lacto-ovo-vegetarian diet include eggs also.
A vegetarian diet is full of vitamins, fibers, healthy fats, etc. It will help in keeping your body and mind healthy due to the essential vitamins and macronutrients present in it.
A non-vegetarian food-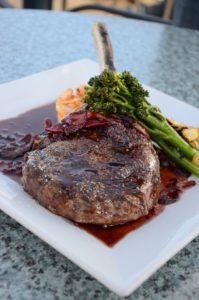 A non-vegetarian food is purely based on animal sources like meat, fish etc. Foods in the non-vegetarian category are highly rich in proteins and vitamins which help our body to grow its strength and also keep us healthy. It helps in the overall growth of muscle mass in our body.
Both these food types have their own pros and cons:
A vegetarian food is the most preferred food option in India. Doctors do recommend the vegetarian food in illness and chronic diseases. Certain perks of a vegetarian diet are-
Vitamins and minerals-

Vegetarian food is mainly a rich source of vitamins and minerals as they are plant-based products. These types of food keep you energetic and also keep you away from various harmful diseases.

Rich in fiber-

Plant-based products whether it is nuts, cereals, fruits, and vegetables they are all rich in fiber. Fiber is an essential macronutrient for our body. Fiber helps in passing the stool easily and keeps the digestive system clean. Most non-vegetarian diets lack fiber and its deficiency can lead to digestive disorders, colon cancer, acidity, constipation and other diseases related to digestion.

High in antioxidants-

Vegetarian foods are rich in antioxidants what it does is, fixes the free radicals and removes them from your body and keeps you away from various harmful diseases. Whereas meat and chicken products increase the toxicity in the body which will lead you to various kind of diseases.

Helps in weight loss-

Vegetarian foods lower down the fat percentage in your body eventually leading you to lose weight easily. It also helps in maintaining the cholesterol level and reducing the risk of various cardiovascular diseases. You should also stay away from diabetes if you are a vegetarian food eater.

Other benefits-

Vegetarian foods are easily available and are comparatively cheaper than non-vegetarian foods. These foods are also rich in calcium, iron, magnesium, iodine which have their own benefits to your health. It also reduces the risk of food poisoning which is most common nowadays.
Disadvantages of a vegetarian diet-
Though vegetarian foods will keep you healthy, you won't gain strength and muscle mass easily when compared to a non-vegetarian diet. Vegetarian diet lacks protein which is the most essential nutrient for your muscle development.

You won't get all the essential macronutrients if you are totally dependent plant-based products. This can result in health issues as you grow older.
Advantages of non-vegetarian foods-
Availability-

Non-vegetarian foods are available globally. There are chances of not getting a vegetarian food but seldom for a non-vegetarian food.

Helps in developing muscle mass-

A non-vegetarian food being rich in protein helps in developing a healthy muscle mass, thus increasing the overall strength and stamina. The chain of essential amino acid is incomplete in every vegetarian food source. However, a non-vegetarian food has all the essential amino acids in them which promote the muscle development.

A highly nutritious food-

A non-vegetarian food is not only rich in proteins but it has all the essential macronutrients. This helps in keeping your body healthy and boosts your stamina. Being rich in calcium it strengthens your body which provides an aid to the strength of your body.
Disadvantages of a non-vegetarian food-
Non-vegetarian food is the root cause of heart-related diseases like blood pressure, high cholesterol, and cardiac attacks. These foods are the main cause of obesity and diabetes also.

The drugs given to an animal for their development are transferred to our body once we consume their meat. This increases the risk of various chronic diseases.

Meat products are rich in bad fat which increases the fat percentage of our body. This, in turn, causes excess weight gain hampering the health of our body. It also affects the arteries and veins due to high cholesterol present in them. Meat products harm the environment also, as these products when thrown in open spreads various diseases and pollute the water when left open.

Meat products are expensive and for poor people, it is not affordable.
What is best?
Both the food types have their own pros and cons. A well-balanced diet which has few non-vegetarian sources and few vegetarian sources is best for your health. Include both in your diet. Both foods are available in a processed form in the market, stay away from those.
Conclusion-
Our eating habits decide the fate of our health. A diet which has all the essential macronutrients in an adequate amount is what the body requires.
Eat healthily and be healthy.
Be Happy, Be Peppy. LivePeppy! 🙂
[amazon_link asins='8184007485,8184007833,B077PTPGC4,9384149683′ template='ProductCarousel' store='livepeppyin-21′ marketplace='IN' link_id='eebe2d67-79f1-11e8-a562-73c9cef108ac']
Article Credits: Hafsa Zamindar | Mumbai | India
Editor: LivePeppy
Click Here to Follow the Writer on Facebook
Click Here to Follow the Writer on LinkedIn